Welcome to our website
Gekko is a wholesale and retail collective. We mainly deal with liquid refreshments, selected coffees and certain equipment required for the catering trade and private parties. Our focus is on selling beverages to both end consumers and commercial customers.
We have a cash & carry store and deliver to all locations within Berlin that are accessible to our vehicle: whether to restaurants, shared offices, retailers, corporate events, private parties or public events.
Our mission is to not only to drop fences between producers, distributors and customers and to unite them in a co-operative in order to trade, but also to act together. By acting, we not only mean to question how goods are distributed but also to directly influence production, sales and how they are consumed:
How do manufacturers produce their goods?
Who produces and under which conditions?
Where do they produce and who receives how much money?
What degree of participation do employees have within the business?
Where do profits flow, who owns the means of production?
We try to find alternative answers to these questions. Even though this ongoing work in progress does not make things always easier we feel happy with a lot of new, alternative solutions developed by Gekko.
---
Leider konnte die Kelterei keine Ware liefern, da BioZisch erst wieder abgefüllt werden muss. Diese Information stand leider nicht zur Verfügung, als veröffentlicht wurde, dass BioZisch Rhabarber 12×0,33 wieder verfügbar ist.
Wir bitten die Unanehmlichkeiten zu entschuldigen.
BioZisch Rhabarber in der 6×0,7 Kiste ist aber verfügbar!
---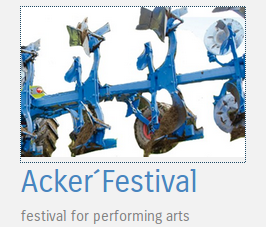 Mit dem Acker´Festival findet vom 20.-22. September 2013 ein Festival für performative Künste im AckerStadtPalast in Berlin Mitte statt, das sich dem Neubeginn, dem Unfertigen und dem Reiz brachliegender Flächen widmet.
Das Acker´Festival bietet jungen, noch nicht etablierten TänzerInnen, PerformerInnen und bildenden KünstlerInnen die Möglichkeit, frische, sich noch im Wachstumsprozess befindende Arbeiten einem gemischten Publikum zu zeigen.
---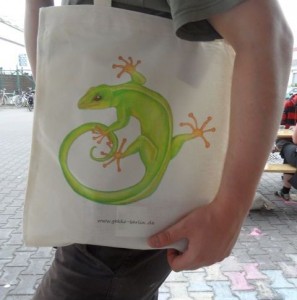 Für den kleinen Einkauf – von duftendem Kaffee, Gummibärchen aus Costa Rica oder der Flasche "Partisan" für die Party am Wochenende – haben wir jetzt eine schöne Verpackung im Sortiment: Die Tragetasche mit dem Gekko, aus 100% Bio-Baumwolle!
Der 3-farbige Siebdruck dieser auf 100 Stück limitierten Edition – made in Berlin – wurde nach einer Vorlage der Künstlerin Anne Baum aufgebracht. Jede einzelne Tasche kommt mit einem liebevoll gefertigten Etikett und eigener Auflagennummer daher.
Für 5,- Euro könnt ihr die Tragetasche bei uns erwerben.
Viel zu teuer?!: Unser Preis entspricht lediglich den Produktionskosten.
Mit der Entscheidung für Bio-Baumwolle und ein Fairtrade-Produkt unterstützen wir das Engagement der CleanClothesCampaign. Für pestizidfreies Arbeiten und gerechte Löhne in den Textilfabriken und Druckereien dieser Welt!
Produktdaten: EP70 CLASSIC SHOPPER, TOTE BAG ,100% Organic Cotton, Plain Weave 120 g/m2, W38 cm X H42 cm, waschbar bis 60°
---